NAVAL BASE YOKOSUKA, Japan – For five days, the Navy faced armed assailants, suspicious packages, emergency evacuation and six other simulated scenarios during Exercise Citadel Pacific at the home of the 7e Fleet.
The drills from Aug. 15 to Friday were part of security drills held at naval facilities across Japan. Other scenarios mimicked a small boat attack on the base harbor and an active shooter scenario.
"Our Navy's responsibility is to ensure the safety and security of our personnel, equipment and facilities," Rear Admiral Carl Lahti, Commander of Naval Region Japan, told Stars and Stripes per email Friday. "This annual exercise uses realistic scenarios to ensure our security forces across Japan maintain a high level of readiness."
At Naval Base Yokosuka, the exercise included about 300 sailors and civilians from all departments, base spokesman Randall Baucom told Stars and Stripes on Friday.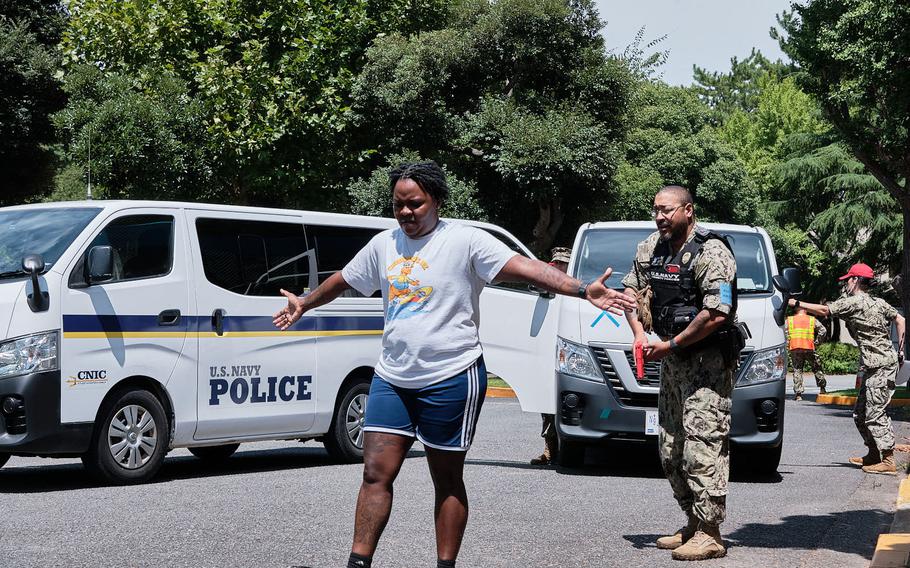 "The professionalism and dedication it took from all of these actors – from department heads to sailors in the thick of the action – was exceptional," the base commander said. Captain Les Sobol in a Friday email to Stars and Stripes. "They knocked it out of the park."
In most scenarios, the exercises are highly scripted, but only the "red hats", or administrators, are aware of the script in advance. The participants, or "blue players", approach the exercises relatively blindly.
On Tuesday, 50 people, including sailors, took part in an active-fire exercise near the Benny Decker Theater, Chief Petty Officer Carlos Hernandez told Stars and Stripes.
"The idea is that we put these exercises together so that we can kind of change the tactics," said Hernandez, 43, of Brownsville, Texas. "So when it happens for real, we have something to lean on."
New this year for Yokosuka was a tabletop exercise simulating the evacuation of approximately 24,000 people. The naval base regularly holds evacuation drills, but this year's plan was a new addition to Citadel Pacific, Baucom said.
"All overseas facilities have a responsibility to provide for the evacuation of non-essential personnel," he said in an email Friday. "Evacuations may occur due to emergency operations or natural disaster – such as the evacuation of Clark Air Force Base during the Mount Pinatubo eruption – or other environmental threats such as the radiological threat of the Fukushima Power Plant in 2011."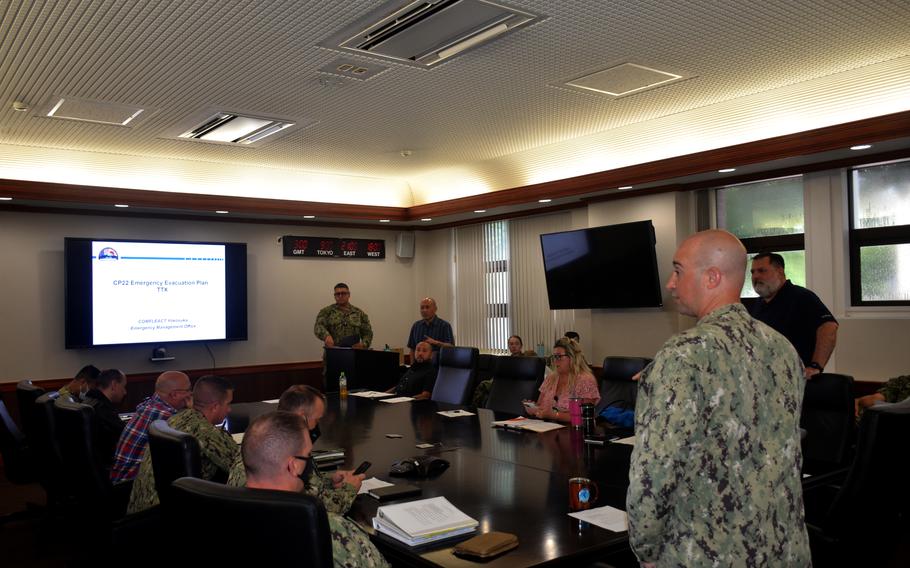 During the exercise, base leaders considered transportation, security and other factors while planning to evacuate a full flight, or about 300 people.
"The ultimate problem will be moving everyone around, it will be a much bigger problem," Sobol said during the drill. "Whatever solution we have for the 300 people, it has to be able to scale."
Sobol said Friday that the exercises are more than just practice, they are also learning experiences.
"The real value of doing these exercises was in the lessons learned," he said.