~~
Late Sunday, February 27, Prime Minister Fumio Kishida announced that Japan was joining several Western countries in excluding a number of Russian banks from the SWIFT payment network, which facilitates international bank transfers.
Japan joined the United States, Canada, United Kingdom, European Union, France, Germany and Italy, which all announced their determination to impose the SWIFT exclusion measures on February 26. .
"We will show that a reckless act of violence has a huge price," the Japanese Prime Minister explained on February 27.
SWIFT stands for Society for Worldwide Interbank Financial Telecommunication. Created in 1973 in Belgium, it is an internationally recognized payment network that facilitates fast and secure money transfers between more than 11,000 banks in more than 200 countries and territories.
It is still unclear what effect the measures will have. On the morning of February 28, Prime Minister Kishida told members of the National Diet that details were still being worked out with international leaders.
Other measures taken by Japan include an emergency aid donation to Ukraine of US$100 million and the freezing of the financial assets of Russian President Vladimir Putin and his aides.
The government is considering imposing sanctions on Belarus, Ukraine's neighbor and Moscow ally, according to Prime Minister Kishida's comments during the House of Councilors' budget meeting on the morning of February 28. Belarus reportedly allowed the safe passage of Russian tanks and other war vehicles through its territory to the Ukrainian border.
Also on the morning of February 28, Taro Kono, a member of the LDP in the House of Representatives, shared on Twitter that an imminent announcement on new measures will come from the government regarding Russia's invasion of Ukraine:
In a related step, the majority of European countries announced on February 27 that they were closing airspace to Russian flights.
International response
Japan's announcements were well received by the international community and other G7 countries.
US Secretary of State Antony Blinken posted on Twitter late February 27:
A firm stance against Russia
"It is impossible for relations between Russia and the international community to continue as before," Kishida said on February 27, referring to the recent turn of events.
Kishida then promised that Japan "will stand in solidarity with the people of Ukraine, who are trying to protect their homeland and their family."
The language used by Japanese officials was also not veiled. Foreign Minister Yoshimasa Hayashi has started using the word "aggression" to describe Russia's actions against Ukraine, a formulation the foreign minister calls "stronger" than invasion.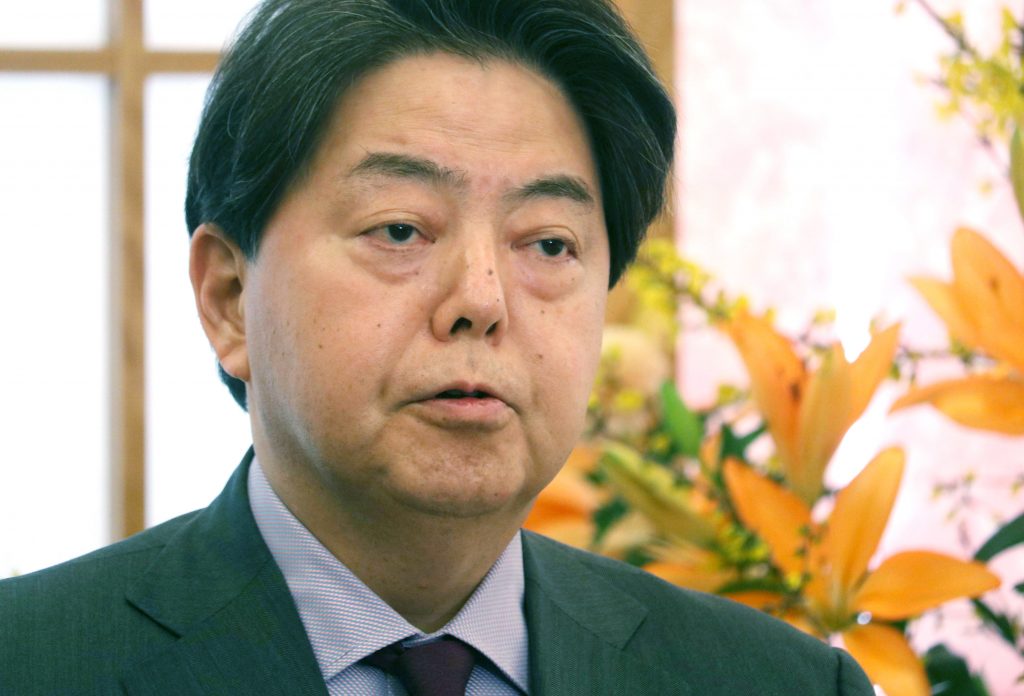 Hayashi pointed out the ramifications of the Russian invasion during a Feb. 26 press conference, saying they would be "not limited to Europe." The foreign minister took part in a meeting of G7 foreign ministers late on February 27 JST to reiterate Japan's commitment to strongly oppose Russia's actions.
Japanese authorities are also monitoring the case of a Japanese freighter which was hit on February 26 by a Russian missile while sailing to Odessa, somewhere off the Black Sea. A Filipino was reportedly injured.
"We have strongly expressed our wish that Russia will guarantee the safety of foreign and Japanese vessels," Hayashi said on an NHK news program on Feb. 27.
Japan's new measures come on top of sanctions announced earlier in the week. These include export controls on high-tech products (such as semiconductors), a freeze on assets held by Russian financial institutions and a suspension of visa issuance for certain Russian persons, announced on February 25.
RELATED: Japan joins G7 powers in tough sanctions on Russia
Impact on the Northern Territories conflict?
For Japan, action against Russia is also being considered amid a territorial dispute in the Northern Territories, islands just off the Nemuro Peninsula in Hokkaido.
Russia unilaterally invaded the territories after World War II and forcibly expelled Japanese residents from the four northern islands. Japan has been pushing for the return of the territories with Russia.
On this point, Kishida renewed his resolve to put an end to the matter, stating on February 27:
"There is no change in Japan's position on Northern Territory issues, nor in our determination to address the plight of the elderly former islanders."
However, he continued: "In light of recent events, we do not believe that now is the time to discuss the prospects for negotiating a peace treaty.
"Russia's recent invasion of Ukraine is an attempt to unilaterally change the status quo by force. It is an act that undermines the very foundation of the international order," Kishida said, stressing, "There is therefore a need to act decisively, in unity with the international community, including the G7 countries."
RELATED:
Author: Arielle Busetto