The Sankei Shimbun and Fuji News Network (FNN) jointly conducted a nationwide opinion poll over the weekend of May 21-22. The results reveal that 64.7% of respondents support Japan's acquisition of capabilities to strike enemy bases, which is currently being considered by the government.
Regarding the ruling Liberal Democratic Party's proposal to increase Japan's defense spending, 15.1% responded that they supported increasing the defense budget to "a level equivalent to 2% or more of gross domestic (GDP). Another 46.9% said they supported increased defense spending, but that it "does not necessarily have to be 2% or more of GDP". Taken together, the survey showed that more than 60% would like to see some form of increase in the country's defense spending.
Russia's invasion of Ukraine and the growing deterioration of the security environment surrounding Japan, including successive North Korean missile launches, are apparent factors behind these figures.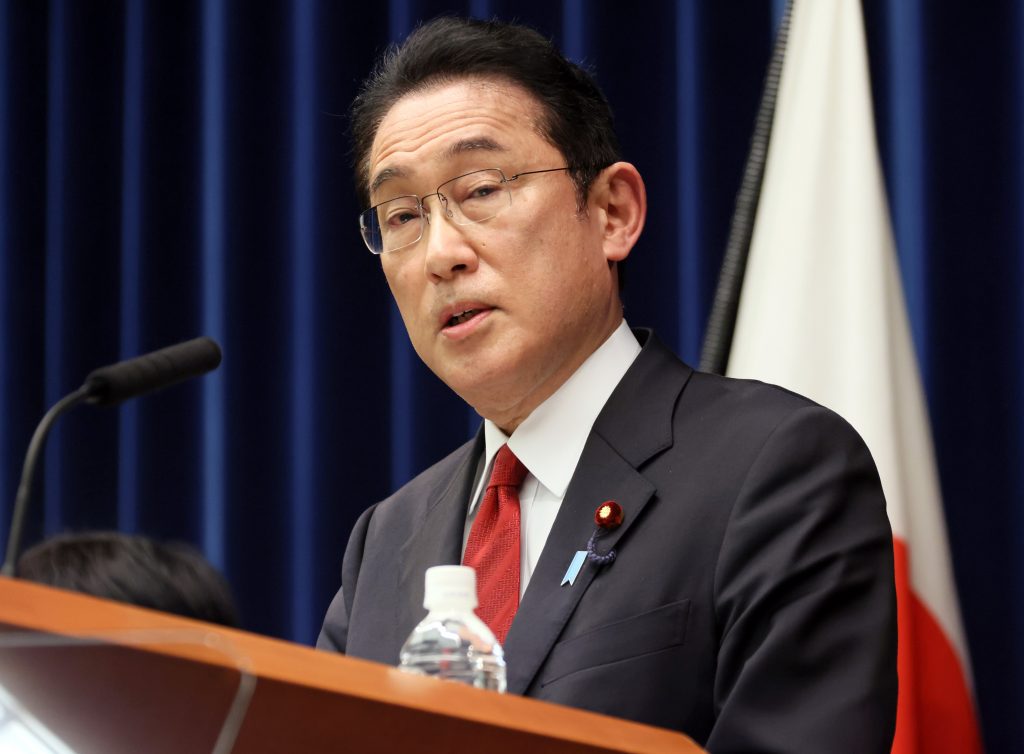 Support rate for Cabinet Kishida at 68.9%
The survey showed an approval rating of 68.9% for Prime Minister Fumio Kishida's administration, up 3.0% from the previous Sankei-FNN poll on April 16-17. It is the administration's highest rating since taking office in October 2021.
The government's approval rating has hovered around the 60% mark for 8 consecutive months since the start of the Kishida government. Factors identified as contributing to its high rating are the handling of the COVID-19 crisis and the government's responses to the Ukraine crisis, both of which exceeded the 60% mark in the latest poll.
When asked if they think Japan should apply sanctions against Russia even if it has a negative impact on the national economy and people's lives, 73.6% of respondents said the government should do it. In comparison, 20.0% answered that it is not necessary to impose sanctions.
Energy, Masks and South Korea
Expectations were also measured for the government of new South Korean President Yoon Suk-yeol, which has officially pledged to work on improving Seoul's relations with Tokyo. The combined responses of those who say they have "high hopes" or "hope to some extent" account for 67.4% of responses to the Sankei-FNN survey.
Another question asked for opinions on government requests for people to wear face masks to reduce COVID-19 cases. Relaxation mask requirements were supported by 50.7% of respondents, with 44.1% saying they should not be relaxed.
Regarding the recent upward trend in energy costs, especially oil, 47% of all respondents rated government measures with at least some level of positive appreciation.
Upcoming Upper House Elections
Respondents were asked which political party they plan to vote for in the proportional representation ballot in the upcoming summer 2022 elections for the House of Councillors. Those citing the LDP topped the list with 39.2%. The main opposition party, the Constitutional Democratic Party of Japan, came in second with 7.1%.
Nippon Ishin no Kai (Japan Innovation Party) was selected by 5.7% of respondents, while the LDP's ruling coalition partner Komeito won 3.2%. Next come the People's Democratic Party with 2.0% and the Japanese Communist Party with 3.2%, according to the survey results.
The answers "I don't know" or "I don't want to answer" accounted for 35.4% of the respondents.
Query Methods
Survey questions were asked again when an answer about Cabinet support or non-support was equivocal. In such cases, responses were elicited by again asking respondents for their assessment of Cabinet Kishida, with response options expanded to include "somewhat in favor of" or "somewhat against" the Cabinet.
The survey was conducted by telephone via Random Digit Dialing (RDD), a sampling method to generate telephone numbers randomly based on gender and age group in the respective survey areas , until the target number of responses is reached. The ratio of landlines to cellphones in the survey was 4 to 6.
A sample of 1,017 men and women aged 18 or older from across the country participated in the survey.
RELATED: 8 out of 10 Japanese fear Russian aggression will inspire China ー Poll
(Read the report in Japanese on this link.)
Author: The Sankei Shimbun