Last in the series
"We may finally be able to create a vaccine that we can be proud of." In April, an official from KM Biologics in Kumamoto City, which is pursuing the development of a vaccine against COVID-19, shared these expectations.
Currently in Japan, plans for a fourth round of vaccinations using vaccines made overseas are progressing. In contrast, vaccines that are under research and development at the national level have not even sought approval.
They were mocked. And they say that compared to the vaccines coming from overseas, they are not just one but two or three steps behind.
As of May 2020, KM Biologics aims to develop a traditional "inactivated vaccine", similar to that used for influenza vaccines. Until now, they planned to provide boosters, but with the spread of the remarkably effective messenger RNA (mRNA) vaccines, they were forced to change strategy.
Now they are urgently developing a pediatric vaccine for children 6 months to five years old. Inactivated vaccines have fewer adverse effects and have been used in the past in a four-vaccine mix for infants.
In April 2022, clinical trials began in Japan. They aim to produce a national supply by the end of 2022, and if it can be put into practice, it will catch the world's attention.
"There is still a purpose for inactivated vaccines," says Toshiaki Nagasato, president of KM Biologics, confidently.
Changing vaccination policies
Japan was once a leading vaccine-producing country. The country has produced vaccines against chickenpox, Japanese encephalitis and others. However, from the mid-1960s there were a series of reports of adverse effects of vaccines and a general mistrust of vaccines spread.
Patients and their families who died or had serious side effects after receiving vaccines such as those for smallpox and poliomyelitis, blamed the government and filed complaints across the country starting in the 1970s. In 1992 , a Tokyo High Court ruling ordered the government to pay compensation and the government dropped the appeals.
Viral meningitis continued as a side effect even with the MMR (measles, mumps, rubella) vaccine introduced in 1989. The Ministry of Health and Welfare decided to stop vaccinations in 1993.
Due to these circumstances, the country has adopted a negative outlook towards vaccines. When the Vaccination Act was revised in 1994, regular vaccination was changed from "required" to "compulsory effort" and group vaccinations became individual vaccinations, performed only after the individual understood the purpose of the vaccine and its risks.
In 2012, during a subcommittee on national regulatory and institutional reforms, an official from the Ministry of Health, Labor and Welfare said: "We have looked at the issue of adverse effects of vaccines at length. People may be afraid of getting a new vaccine.
This negative attitude will prevent Japan from building a solid foundation in new vaccine technology. For Japan, being a "vaccine powerhouse" is a thing of the past.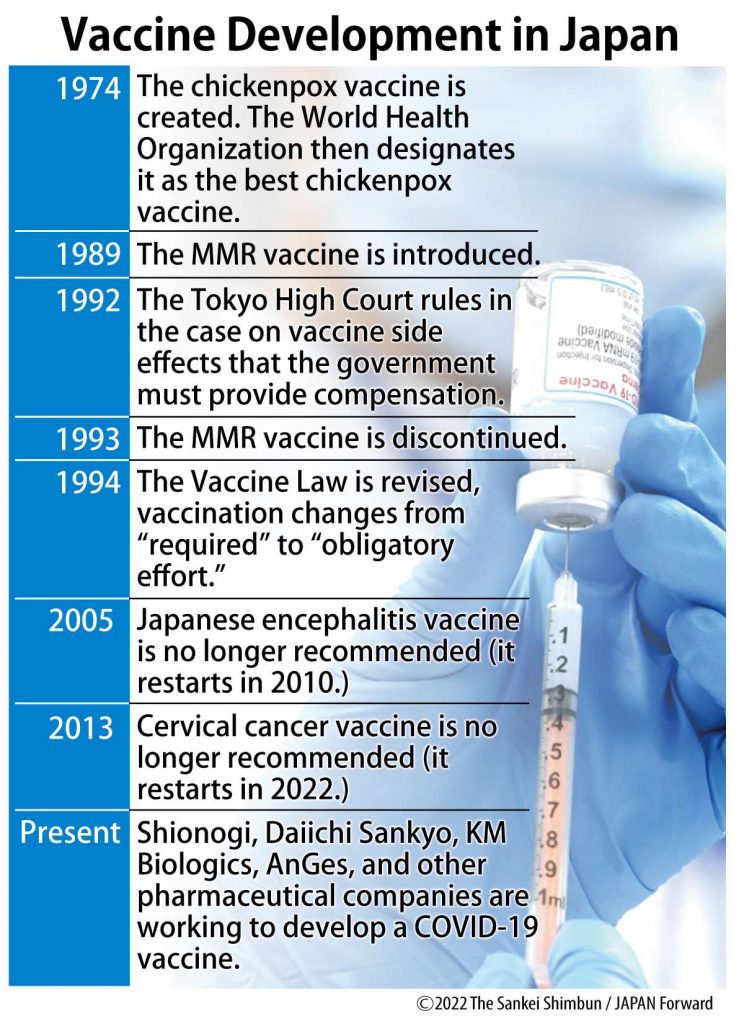 Shionogi and the need for rapid inspection systems
Ikeda, Gifu Prefecture. The largest biopharmaceutical factory in the world is located in the countryside, in the northernmost part of the Nobi plain. It is a Shionogi "recombinant protein vaccine" manufacturing plant, and is said to be the closest to commercializing a domestic COVID-19 vaccine.
In a bid to deliver the vaccine quickly, the company has invested a total of around 41.7 billion yen ($300 million), including government grants of 37.3 billion yen ($268 million). to improve its facilities. The production line, which has the capacity to produce vaccines for up to 60 million people a year, has already been completed and is preparing for full-scale operation.
Shionogi originally planned to start supplying vaccines in 2021. But at a press conference held on May 11, 2022, they announced that they would aim to finally seek approval in June or July 2022.
The reason for the delay was the difficulty of gathering people for the clinical trials. The company miscalculated as vaccinations had already progressed in Japan and overseas in the fall of 2019 when the large-scale clinical trial was launched, making it difficult to enroll tens of thousands of people not vaccinated.
"In terms of technology accumulation, the private sector, academia and the country were all lagging behind," said Isao Teshirogi, the president, lamenting the difference in pace compared to the West.
Building on past successes
The vaccine Shinogi is developing is based on an approved flu vaccine created by venture capital firm UMN Pharma and Astellas Pharma. However, when they applied for approval of the new vaccine, it was rejected by the Pharmaceuticals and Medical Devices Agency (PMDA), the authority in charge of these reviews, and it could not be put into practice.
Since then and until the COVID-19 pandemic, a wide range of vaccine knowledge has not been accumulated in Japan. Shionogi then absorbed the UMN and continued to work on developing a COVID-19 vaccine using technology that overcame the problems of the previous application.
"It is feared that stagnating developments in enterprises have also made it difficult to improve the examination system," said Toshihiko Takeda, who was director of the medical affairs office at the Ministry of Health, Labor and Welfare. -be.
Recognize Strategic Sourcing
With the COVID-19 pandemic, recognition that vaccines and infectious disease treatment drugs are strategic supplies has increased in Japan. The country is moving forward with more support for research and development and a mechanism to purchase these products.
Beyond that, Takeda says, improving review and review authority is key.
"It is crucial that the PMDA assesses that it has properly supported the work of companies to develop pharmaceutical products and that it has carried out reviews quickly."
If the review authority's capacity is reduced, "Japan shift" phenomena may occur, in which clinical trials of vaccines approved in Europe and the United States are postponed to Japan. There is an urgent need to create an environment where people can smoothly develop their own vaccines.
Read the series here:
RELATED:
(Read the article in Japanese at this link.)
Author: The Sankei Shimbun