Find more articles like this on our new website Japan 2 Earthtriggering a transition on the environment and the SDGs.
On June 28, a team of researchers from the National Institute for Environmental Studies (NIES) and the University of Tokyo announced predictions that droughts, which are becoming more severe as global warming progresses, will increase. in seriousness during this century.
Abnormal drought conditions will become the norm in many countries around the world, according to the research team.
This forecast is the first of its kind in the world. Although Japan is not included in the affected areas, it will be nearly impossible to avoid the impacts. Among other things, Japan could have difficulty obtaining food, since the country's food supply is highly dependent on imports.
Among the regions expected to experience record droughts that persist for more than five years are parts of North and South America, the Mediterranean coast of Europe, the Middle East, Africa and Australia.
In addition to intensified drinking water shortages caused by the drought conditions, the negative impacts on agricultural and industrial activities, as well as the rampant spread of diseases, are of concern, according to the study team.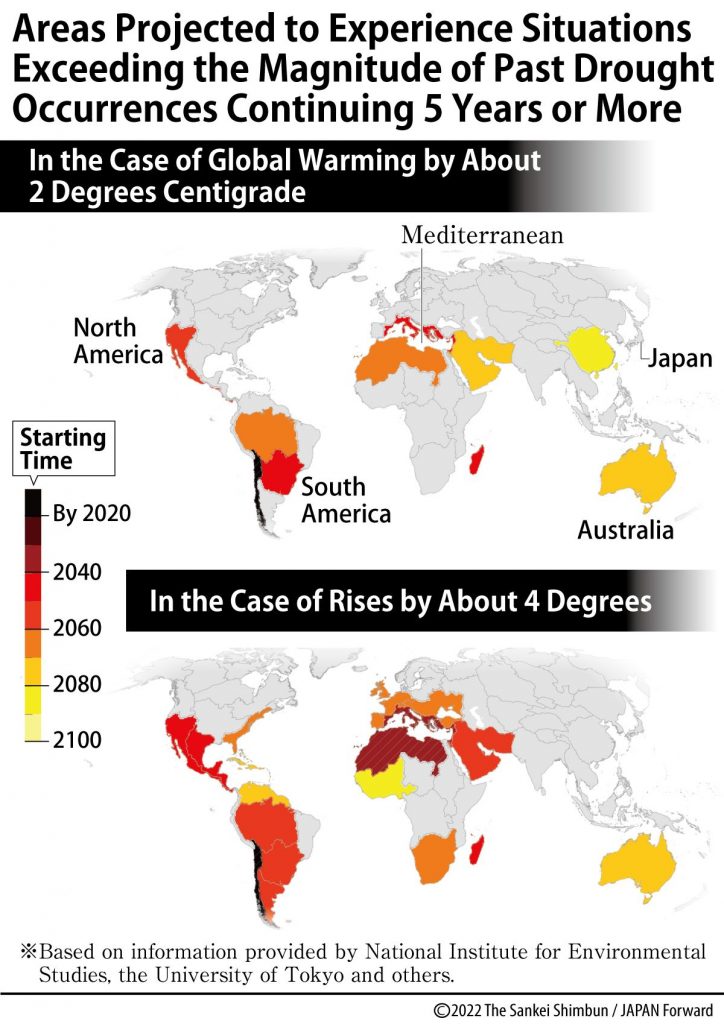 Droughts spread to other parts of the world
The results were based on data from droughts that occurred in rivers around the world between 1865 and 2005. Using a system for predicting future temperature increases and atmospheric circulation, the researchers ran a simulation to estimate when and where unprecedented drought incidents would occur. They calculated the years in which the number of days of extremely low water volume, such as dry riverbeds, would exceed past records for five or more consecutive years.
Such extreme droughts have already started, for example in Chile on the west coast of South America.
According to the research team, the severe conditions will spread to other parts of the world by 2090 if the average global temperature increase is relatively moderate, or about two degrees Celsius above pre-industrial levels by the end of the century. With a more drastic warming of four degrees, this new normal could deepen around 2060, with larger areas affected compared to a two degree rise in temperature.
The researchers note that many regions prone to these extreme droughts are exporters of food to Japan. Therefore, if droughts have negative effects on agricultural production, Japan could suffer from food shortages.
Moreover, as global warming progresses, there is likely to be a marked polarization of dry and wet areas. Other regions, conversely, could face increased frequencies of torrential rains, floods and other disasters.
Professor Kei Yoshimura of the University of Tokyo, a member of the research team, explains. "While efforts to curb global warming are of course urgently needed," he says, "it is important to consider ways to adapt to these anomalous environments, particularly in areas facing harsh conditions. previously unimaginable where unprecedented droughts are becoming the norm".
RELATED
(Read the article in Japanese at this link.)
Author: The Sankei Shimbun